<! ------------------------------------------------------------>
Caboodle User Guide
License Options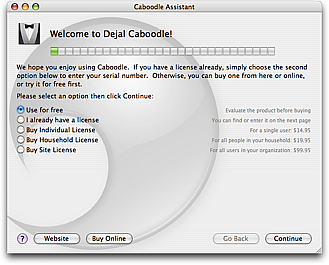 Caboodle is a shareware product. You are welcome and encouraged to try it for a while before buying it, to make sure that it suits your needs. That's good for you, as it avoids spending money and hassles on software that doesn't do what you want, and good for us as it avoids expensive refunds and chargebacks (we give you all your money back, but we have to eat the fees).
Caboodle has a 30-use day trial period. This means that you can use Caboodle's full functionality on up to 30 days, and it only counts days that you actually have it running - if you stop using Caboodle for a week, that doesn't count against your trial. You can see the number of days that have elapsed in this window. During the trial period, all Caboodle features are available, just as if you had bought a license; you'll just see this window occasionally (no more than once a day), reminding you that you haven't purchased it yet. However, once the 30 days of usage have elapsed, some features will be disabled. Your data will still be visible, but you won't be able to add or change any entries, among other restrictions. So make sure you buy before the trial expires to avoid any inconvenience.
This page of the Caboodle Assistant window offers a number of options. You can continue to evaluate Caboodle at no cost. Or if you already have a license (e.g. you bought via the online Dejal Store), you can indicate so and continue to the license editor page. Or if you are ready to purchase, you can choose one of the "Buy" options to proceed to the built-in Kagi purchasing tool.
The window also includes buttons to access your web browser. The Website button goes to the main Caboodle page, whereas the Buy Online button takes you to the online Dejal Store, in case you prefer to buy on the web, or wish to buy via PayPal instead of Kagi.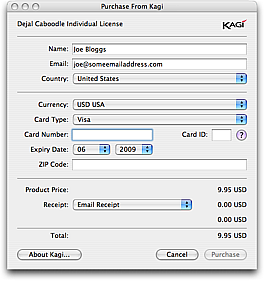 When choosing the "Buy" options, Kagi's purchasing tool appears, after checking with their server. It allows securely purchasing a Caboodle license without leaving the app, and have your serial number automatically entered. Very convenient. You'll still get an email or paper receipt with your license info, though you won't need it. After completing the purchase, you'll be taken to the license editor page where you can see your license.
Go to the License Editor page
Return to the Caboodle menu page
Go to the User Guide Contents
Return to the main Caboodle page
<! ------------------------------------------------------------>