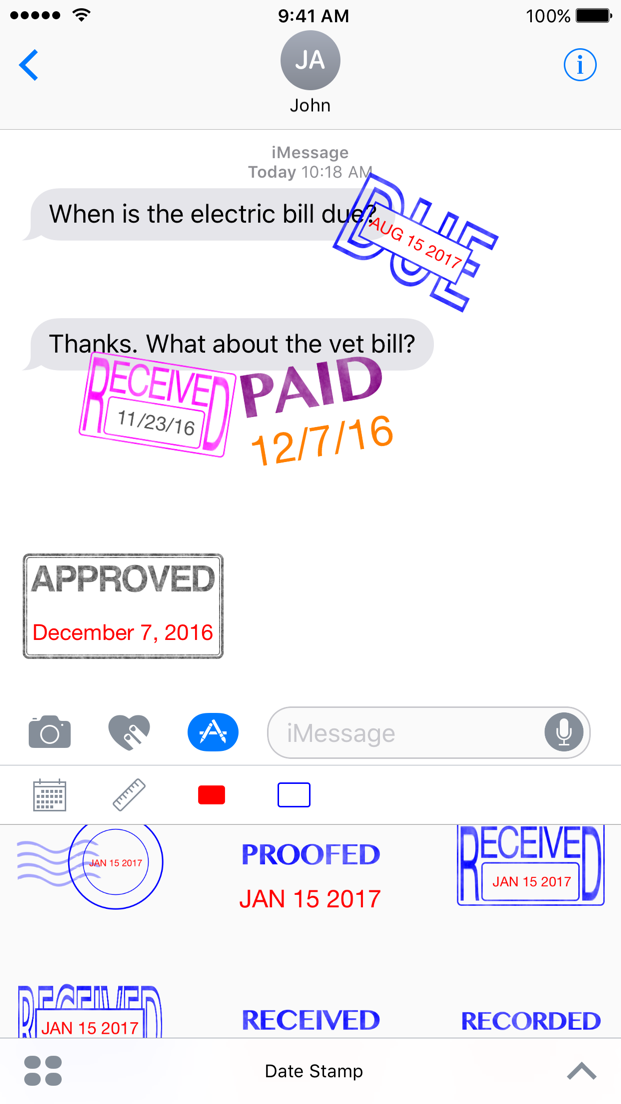 Date Stamp is an iMessage app to create customizable stickers, featuring a date and message like APPROVED, DUE, PAID, RECEIVED, SAVE THE DATE, SENT, and more.
This is a standalone iMessage app; it won't clutter up your home screen, but will only appear in Apple's Messages app on iOS. Tap the stickers/apps button to the left of the text field to display the stickers and iMessage apps.
Unlike a static sticker pack, you can choose a different date, select short, medium, or long date format, and change the colors of the date and design text to personalize the date stamp stickers.
Use the toolbar above the stickers to change the appearance:

The date can be changed via a mini date picker; tap Today, or spin each of the date components to choose another date:

Choose short, medium, or long date format (via buttons that show how the chosen date will be displayed):

Pick a color to use for the date in the stamp:

Pick another color for the rest of the stamp (the text and any frame):

Then tap a sticker to insert it in a message, or tap and hold to peel it, and drag it to stick on any message bubble, optionally using two fingers to rotate or resize it as desired.
Try It Now!
Date Stamp is available on the App Store for just $1.99.
Dejal has a reputation for prompt and friendly support. Check out the Date Stamp Support page for several ways to get assistance from the developer and other customers, to suggest new features or enhancements, or provide other feedback.
Version 1.0.1 is currently the latest release. Read the
Date Stamp release notes
to see what has changed in this version.