This product has been discontinued.
No future updates are planned. It is available completely free; if you find it useful, you're welcome to use it at no cost.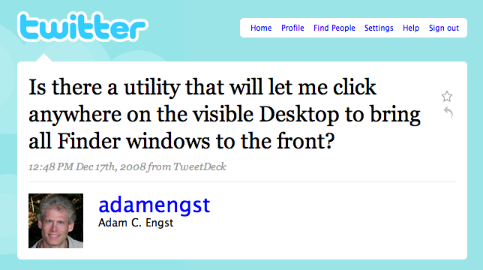 Adam C. Engst, publisher of the excellent TidBITS newsletter ("Mac news for the rest of us"), called out to the Twitterverse for help with a pet vexation. He wanted to be able to simply click on the Desktop and have all Finder windows come in front of all other windows. Normally when you click the Desktop, the Finder is activated but its windows may be obscured behind those of other applications.
And thus FinderFront was created. It is a simple — and completely free — tool to bring all Finder windows to the front when you click anywhere on the Desktop. If the Finder is already active, it does nothing, to avoid blocking selection of any icons on the Desktop.
It doesn't show any windows or menus when launched, and doesn't appear in the Dock, so it'll be practically invisible. If you find it useful and want it to keep working after you restart your Mac, add it to your Login Items in the Accounts pane of your System Preferences.