This product has been discontinued.
No future updates are planned. It is no longer available on the App Store.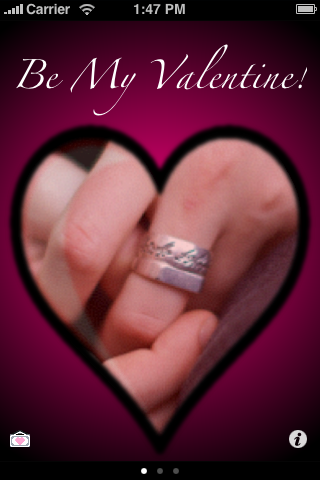 Celebrate Valentine's Day!
Valentines enables you to create special Valentine's Day messages for the love of your life, or messages for multiple people. You can swipe through the messages to see them all. Your custom message text is displayed above a custom photo enclosed in an attractive heart-shaped frame.
You can show the valentines on your iPhone or iPod touch: tap a valentine to display it fullscreen, without the status bar and buttons (new in version 1.1). Or use the camera button to save the displayed valentine to your Photo Library.
A tap of the

button flips the valentine over to reveal a field to edit the message, plus buttons to change the heart photo.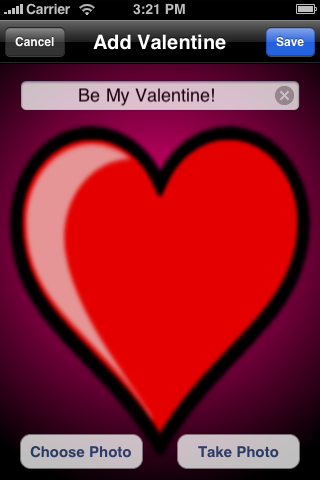 Customize Your Heart
You can enter your own valentine message, and choose an existing photo from the Camera Roll or Photo Library, or take a new photo with the iPhone camera. The photo can be moved and scaled as desired. The new photo is stored in the Camera Roll, so you can import it into iPhoto or use it elsewhere if desired.
Add Multiple Valentines
While editing, a Valentines button displays a list of Valentine messages in the order they appear on Valentines' main side. You can change the order, delete them, or add any number of new ones.