This product has been discontinued.
No future updates are planned. It is no longer available on the App Store.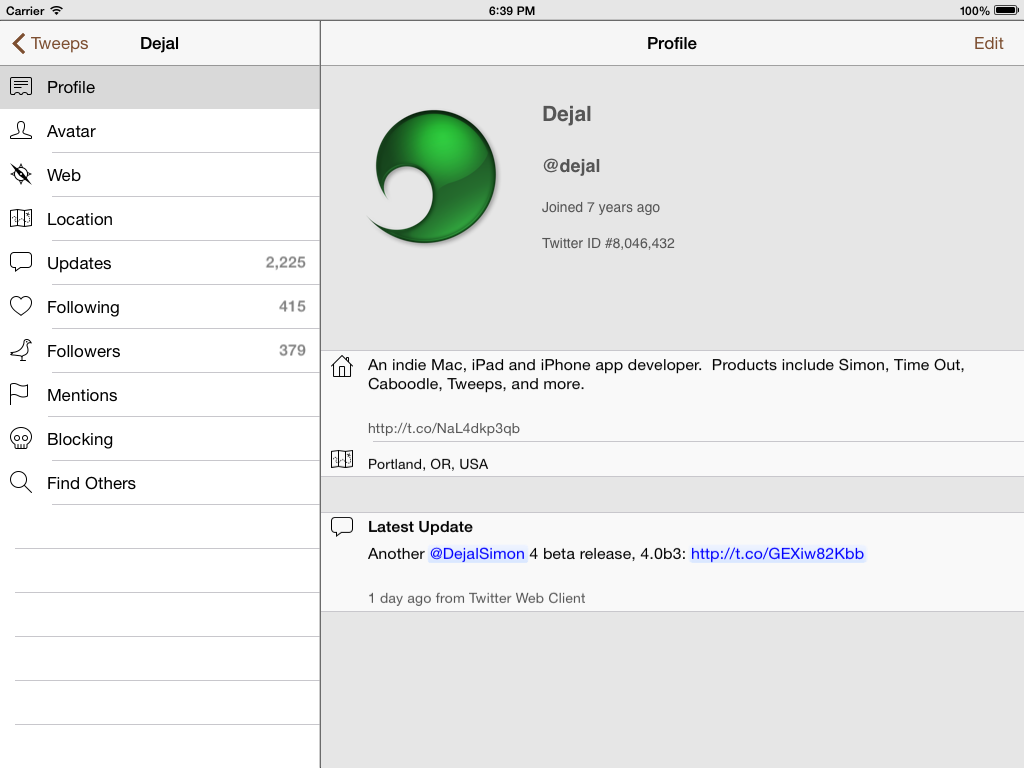 Manage Your Twitter Accounts
Tweeps is a Twitter companion app for iPad, iPhone and iPod touch. It isn't a full Twitter client — you can't post tweets from it. Instead, it is a tool to manage your Twitter account. Edit your name, bio text, website URL and location, plus follow/unfollow people, see if someone follows you, block people, and find people.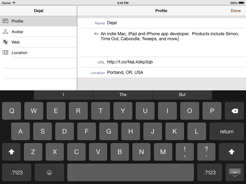 Edit Your Account Information
Add multiple accounts to Tweeps, and easily edit them:
Take a photo or choose one from your photo library to change your avatar picture.
Edit the name displayed for your account.
Change the biographical text — the description you write about yourself.
Edit the website URL, previewing it in an integrated web browser.
Set your current location, and preview on an integrated map view.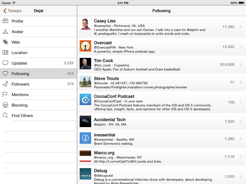 View Information About Twitter People
Learn all about your own accounts and others:
See the display name, username, how long they've been using Twitter, and their Twitter ID.
View the avatar picture, including full-sized, and copy it if desired.
FOLLOW or UNFOLLOW other people. The left button indicates whether or not you already follow them.
The right button indicates whether or not the displayed person follows you.

Tap the right button to display a BLOCK button; you can also optionally report them as a spammer.
Read the bio description text.
See the website URL, and tap to display it in an integrated web browser.
See the location, and tap to display it on an integrated map.
Read the most recent tweet (update), along with the total number of tweets that have been posted; tap to read any number of recent tweets.
See the number of people currently being followed (Following) and who follow the person (Followers); tap to list them and explore further.
When viewing your own account, you can also see lists of tweets that mention you and people you're blocking.
Find other Twitter people by username, first/last name, company, or brand name.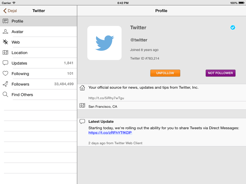 Delve Deeper
Read recent tweets from each person, or skim through the lists of people you're following and who follow you, and see more information about them, including who they follow and who follows them. A great way to discover interesting new people to follow — and you don't need to wonder if you already follow them or not, since it is shown right in the profile detail information.
Load newer updates simply by scrolling to the top, or automatically load more tweets or people by scrolling to the bottom.